This is a guest post from Kelly Odor, Marketing Director at Bookster.
Bookster is one of the leading PMS' offering an easy-to-use solution and dedicated service to property owners and managers in the holiday lettings industry.

At Bookster, we have the opportunity to analyse guest bookings and understand new consumer trends in the holiday rental market.

Our Property Management Software is fully integrated with our websites and channel manager.

This gives us a unique view of bookings made through:
channels like Booking.com and Airbnb;


direct bookings through client websites, and;


bookings made over the phone or email.
We took a peek at the latest trends for bookings made during April and May 2021, and what's changing for UK holiday rental property managers.

There were some real surprises!
Guests are planning for 2022
Guests in 2021 are making holiday plans for 2022 already.

In Spring 2021, bookings for the following year (2022) have been running 3 – 4 times higher than in previous years.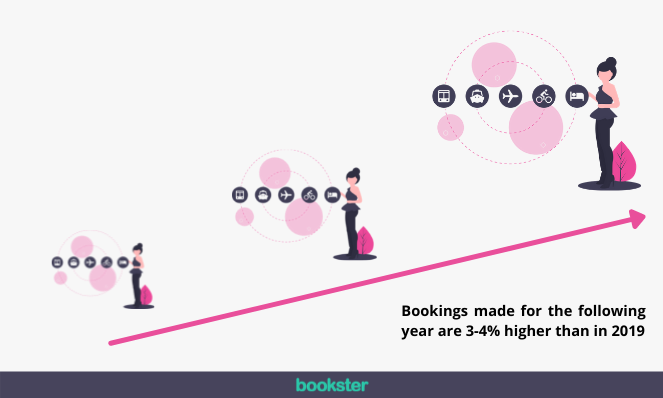 "Guests have been cooped up for too long, so making plans with their families and friends to reunite and embrace each other's company for special occasions, is their number 1 priority. They are planning big holidays like Christmas and Summer 2022 already. "


— Kelly Odor, Bookster
Take action:
Open your calendar for 2022 to take those advanced bookings.


Remember to check that your cancellation policies for 2022 fit with your strategy.
Guests are changing their booking processes
Channels like Booking.com are important for attracting guests, however, there is a significant shift in guest bookings being made directly via property managers, either through their own website or by email and phone.

In April and May 2021 we've seen a 20% increase in bookings made directly. That's a big jump and a warm welcome for all property managers looking to attract direct bookings.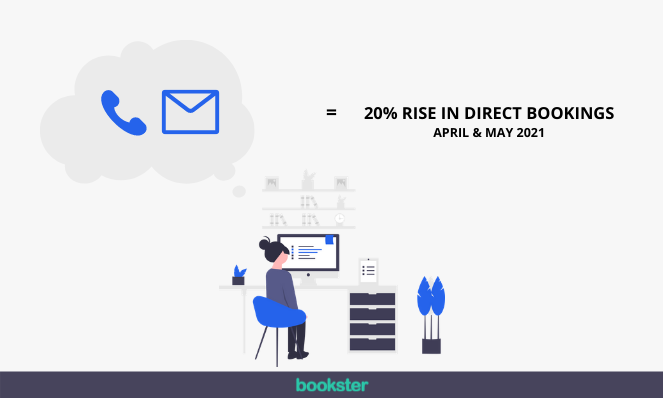 "Increasing numbers of property managers are actively seeking opportunities to attract guests for a lower cost and more control. For guests, there is an increased demand to book directly and use individual operators, instead of large corporations."


— Kelly Odor, Bookster
Take action:
Look at your strategy for how you attract direct bookings, using your social media, email marketing, and most importantly, your own website.
Bookings are up
The overarching news is that bookings are up.
Compared to 2019 we're seeing a significant rise in UK holiday rental bookings.

This is due in part to a number of guests who cannot or will not travel abroad, who want to travel in the UK.

These bookings are not being made across the board, with rural properties enjoying more bookings higher bookings numbers than their urban counterparts.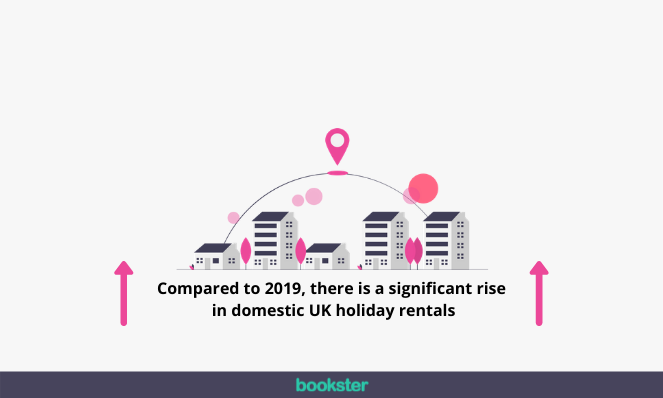 "There is a growing number of guests who are booking multiple properties at the same time, with plans to cancel a booking shortly before the arrival date. These guests are taking advantage of the super flexible cancellation policies which property managers are offering."


— Kelly Odor, Bookster
Take action:
Check your cancellation policies. Ensure that you protect yourself against guests who are making multiple bookings at the same time, with plans to cancel one of the bookings as the arrival date approaches.
Guests are travelling in smaller groups
From January to March 2021 we saw an increased number of bookings for larger groups.

However, April and May have seen a turnaround and now guests are making bookings more in line with 2019. 71% of bookings are for group sizes 2-4 and larger group bookings are the same as 2019.
"This latest shift in group bookings could be in response to the uncertainty of the number of households that can stay together in 2021. Guests may be planning trips in smaller groups to avoid disappointment if the rules suddenly change."


— Kelly Odor, Bookster
Take action:
Promote your property as suitable for small groups.


If you have a larger property and aren't getting any bookings but need some revenue, consider reducing the minimum number of guests for the short-term, and close access to some rooms in the property so cleaning fees can be lowered.