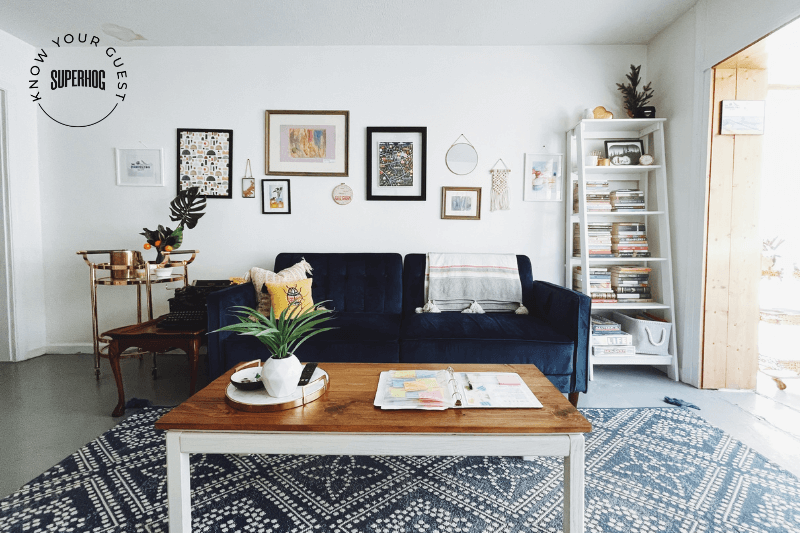 Dtravel's Direct Bookings Revolutionised Through Know Your Guest Integration
Posted by Kiera Davidson on July 26, 2023 · News,Property Managers
Know Your Guest (KYG) is excited to announce that we are revolutionising safer stays with our latest integration with Dtravel, a blockchain-based direct booking infrastructure company.
Property managers are seeking greater control over their businesses by embracing the benefits direct booking solutions have to offer. However, their growing concern is that without an OTA, there is no security blanket when it comes to guest damage. 

That's why, finding property managers the right solutions that will allow them to build independence, scale their businesses and accept direct bookings with the peace of mind that if something did happen, their bookings and properties will be protected from guest-related damages, has been of utmost importance to the Dtravel team. 

Dtravel has partnered with Know Your Guest, the industry-leading risk management platform by Superhog, to eliminate these concerns and install booking confidence and peace of mind to all Dtravel users. 

The new addition of Know Your Guest will revolutionise the Dtravel direct booking, blockchain platform with intelligent guest screening for all Dtravel property managers to mitigate the chance of hosting risky guests and fraudulent or party bookings.

KYG will also seamlessly provide their industry-unmatched $5,000,000 Damage Protection Plan for all Dtravel customers, should they choose to use it.
KYG risk management solutions available through Dtravel Direct
Guest Screening
Know Your Guest's Intelligent Guest Screening will safeguard your properties through risk-preventative technology, helping mitigate suspicious bookings with:
Mobile number and burner phone screening
Proprietary database screening
External watchlists and database screening
Dtravel has made Intelligent Guest Screening free of charge for property managers using Dtravel to power their direct bookings.
$5,000,000 Damage Protection Plan
Know Your Guest brings to the table an industry-leading unmatched $5 Million Damage Protection Plan, and this latest integration will see property managers using Dtravel for their direct bookings implementing this to safeguard their investments and bring an added layer of security to their short-term rental properties.

The ultimate back-up plan for when something goes wrong.

The Damage Protection Plan includes:
✓ Guest accidental and malicious damage
✓ Guest damage due to theft
✓ Guest damage to belongings/contents
✓ Guest damage to common/shared areas
What are the benefits for Dtravel property managers?
In a rapidly evolving STR landscape, trust for both hosts and guests is paramount for guest satisfaction and property manager success.

The Know Your Guest and Dtravel integration will empower property managers to drive direct bookings with the confidence to open their doors to guests, without the reliance of OTAs.

With this connection, property managers will also be able to advertise themselves as a trusted industry professional.
Know who you're letting into your home
An unknown guest can leave you susceptible to damage, loss of revenue and even leave a mark on your reputation. Dtravel and Know Your Guest's partnership allows property managers to establish the true identity of their guests. 

Know that with Intelligent Guest Screening turned on, property managers can welcome guests into their homes and feel confident that they have undergone a thorough background screening process.

Any flagged issues will be raised ahead of check-in, so you remain one step ahead at all times. 
Independence as a property manager
With the new connection between Know Your Guest and Dtravel, property managers can build their business, knowing they can accept direct bookings, mitigate the risk of suspicious bookings and have the ultimate back-up plan in place.

No more jumping through hoops to make a claim via a third-party booking site. No more booking fees. No more restrictions.
Peace of mind
Know Your Guest will provide 100% guest accountability alongside the assurance that if something does go wrong, you won't be left with the ramifications. Know Your Guest will be there to lend the support and resources to minimise the impact of guest-related damages with their Damage Protection Plan and keep you hosting with confidence.
How to activate Know Your Guest with Dtravel
It's quick and easy to activate Know Your Guest in your Dtravel account.

Simply sign up or log in to Dtravel, head to the 'Listings' module and select the listing(s) you wish to use Know Your Guest with. From there, scroll down to the risk management section, click the 'Get Started' button to activate Know Your Guest and select the option you wish to implement:
Option 1 – Guest Screening only
Option 2 – Guest Screening and Damage Protection Plan
Looking for even more risk management solutions, including Sex Offender Background Checks or a new line of revenue with our Damage Waiver Policy? Book a demo with one of our experts.
With Know Your Guest location isn't an issue. Our solutions are available to property managers across the globe, but we'd like you to know that our guest journey is currently only available in three languages: English, French and Spanish. We are working on expanding this in the future.