Protect you and your property from fraudulent bookings and reservations by staying alert, creating regimented policies and implementing 5 key risk management strategies, including screening your guests, creating accurate listings and knowing how to secure your direct booking website to help safeguard your business.
Fraudulent bookings and chargebacks can be disastrous for you as a property manager or host and likely leave you out of pocket or with costly damage to your listing. Sometimes your reputation is negatively impacted too. This means you need to take higher precautions when accepting bookings.

As a property management company or host, you want to focus on what truly matters: guest experience and your success and performance as a vacation rental business. Unfortunately, fraudsters like to exploit the industry.

In this article, we explain how you can avoid vacation rental fraud on popular OTAs and your direct booking websites as well as provide the tools and strategies you need to safeguard your business.


We'll cover:

Different types of fraudulent bookings
As a vacation rental host, you need to be aware of two different types of fraud when accepting a reservation:
Top Tip – It's also good to be aware of website fraud. This is where fraudsters will imitate your website or business, deceiving guests with fraudulent bookings and listings and ultimately damaging your reputation as a business.
Identity fraud
A booking can be fraudulently created by a guest when they are using a fake ID or when identity fraud has occurred. This is when a guest makes a reservation under someone else's name and identification.

When this happens, your property is more vulnerable to illicit activity occurring during that booking, and it can also make it harder for you to trace your guests for compensation if damage does occur.
Guest chargebacks
Sometimes, what appears to be a genuine booking at first, can result in chargeback fraud.

After a guest has completed their stay, a guest can fraudulently request a chargeback from their credit card provider, leaving you out of pocket for a genuine transaction.
What is chargeback fraud?
There are three types of chargeback fraud:
Accidental – The guest doesn't recognise the transaction on their bank statement, so they request a chargeback.
Opportunistic — Guests spot an opportunity to get money back if they are not fully satisfied with their stay. They request a chargeback instead of notifying their host about problems with the property.
Malicious — As the name suggests, a malicious chargeback is deliberate fraud, where guest intends to claim their money back after checking out.
Chargebacks can sometimes be genuine if listing descriptions have been largely inaccurate or misleading or guests make you aware of problems, yet you do nothing to resolve them.

However, chargebacks usually come as a shock, and unfortunately, businesses only win around 32% of chargeback disputes.

Check out our ultimate guide on how to have good guests by being a great host on tips and tricks to spotting a fake ID and the dos and don'ts of hosting vacation rental guests.
Red flags of fraudulent bookings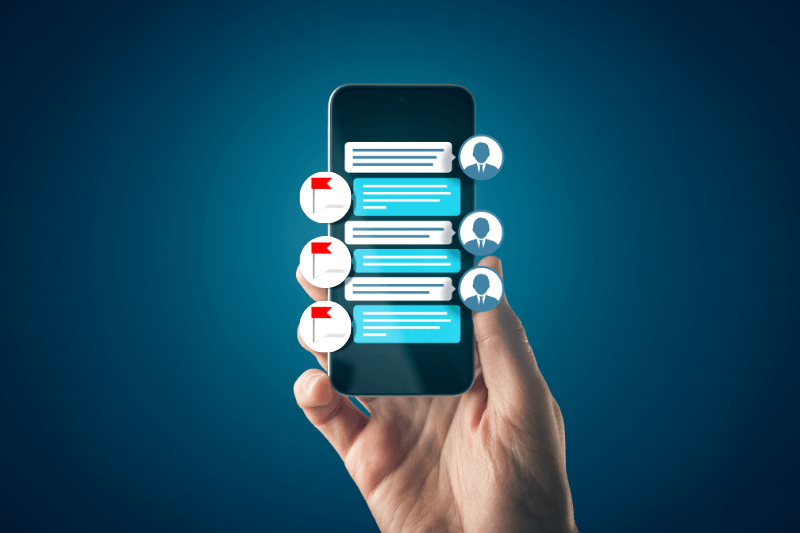 While accepting every reservation is tempting, it pays to be aware of the red flags that often come with fraudulent bookings.

Here are 4 red flags to look out for when guests book that will keep you hosting good guests:
1. Guest communication
Be wary of inaccurate property descriptions in your communication with guests.

For example, if the guest enquiring is talking about a city apartment and your property is a 5-bedroom villa, this could indicate they're sending mass emails to property managers in the hope of catching someone in an Airbnb scam.
2. Last-minute stays
Last-minute bookings offer a great opportunity for property managers looking to fill gaps in their calendars.

However, fraudsters often take advantage of late bookings in the hope that you won't have time to run effective guest screening and security checks.

It's essential to run all your security procedures and confirm the guest's identification, even for last-minute reservations so that you can prevent a fraudulent booking. With the right security measures and damage protection in place, you can confidently accept late bookings and improve your occupancy.
3. One-night bookings
Again, single-night bookings can sometimes, but not always, raise alarm bells for fraudulent bookings and even parties. Guests who book for one night may also intend to commit other illicit activities within your listing.

However, there's no need to turn down one-night bookings when you implement the correct risk management procedures. In fact, one-night bookings can also be a great additional revenue maker similar to last-minute bookings by filling gaps in your calendar.

For more information on how to calculate your vacation rental performance, booking performance and revenue, check out our latest article on the 10 best KPIs to track as a vacation rental host.
4. Requesting to pay by cash, cheque, or wire transfer
Be extra cautious if a guest wants to pay by an unconventional payment method such as cash, cheque or wire transfer. It's best to stick to your preferred payment method and use 3D Secure payments to make payments safer for you and your guests.

5 ways to prevent fraudulent bookings and guest chargebacks
Avoiding fraudulent bookings and chargebacks is complicated but not impossible. Knowing the right tools and strategies to help prevent vacation rental fraud is important so you can host confidently.

So, how do you go about protecting your short-term rental business? You must create a risk management process and ensure you're building a portfolio of accurate listings.

Here are our 5 tips for avoiding fraudulent bookings, Airbnb scams and chargeback fraud.
1. Create accurate listing descriptions
Vacation rental fraud prevention as a host begins with an accurate listing description, which will help to:
Set expectations for your property
If your listing is true to your property, guests will not be able to claim later on that their stay was sub-par and that they were a victim of fraud. It will also make it easier for you to contest any guest chargebacks that occur.

Your listing should highlight your amenities, have an accurate and detailed listing description and plenty of high-quality photos of your property – consider hiring a professional photographer to help truly capture the essence of your property.

It's also essential to keep up with all property maintenance. This will help avoid unpleasant surprises for your guests during their stay, which could lead to complaints, negative reviews and guest chargebacks.

2. Collect ID and screen your guests
Before accepting any booking, ensure you obtain genuine ID documents from your guests. This will help:
Verify your guests' identity
Comply with local laws and regulations
Streamline the check-in process
Most people cannot spot a convincing fake ID, so manually checking your guests' documents is far from effective and not always the best option.

Instead, opt for short-term rental ID screening that can scan and verify guest identification through biometric checks.

With Know Your Guest, you can capture your guest's ID along with a selfie to confirm that all their documents are legitimate. In addition, our comprehensive Guest Screening and Sex Offender Checks will help you stay compliant with local regulations and keep troublesome guests and fraudsters out of your property.

3. Use 3D secure payments
3D Secure authentication provides an additional layer of payment protection between you and your guests, which monitors card activity and, if necessary, may request further authentication from the card owner.

Using 3D Secure makes payments more secure. You will be less vulnerable to chargebacks, and your guests will trust that their payment details are protected and that you are a legitimate business.
Articles you may find interesting:
4. Secure your website
To reduce the risk of website fraud, you need to ensure your website is professional, trustworthy and reliable.

You should also implement a vacation rental privacy policy that tells visitors how you plan to use, distribute and store their data.

Getting your site SSL encrypted can also help improve your legitimacy and prove that visitors' data will be handled safely.
5. Implement a damage protection plan
Unfortunately, there's no way to make your short-term rental business 100% immune from fraudulent bookings and chargebacks.

Even with the best prevention strategy, you can sometimes be caught off guard.

Implementing a risk management backup plan will help safeguard your business if something does go wrong, including costly guest damages, allowing you to continue hosting with confidence.

Know Your Guest's Damage Protection Plan, can be used across all booking platforms, including popular OTA sites and even your direct booking websites.


Learn more about our Damage Protection Plan for short-term rentals.
Protect your vacation rental business with a risk management strategy: Know Your Guest
You can't afford to let your guard down when it comes to fraudulent bookings.

With a comprehensive risk management strategy, you'll be able to:
Spot potential fraud before it happens
Know exactly who is staying in your property
Say no to high-risk bookings
Create a backup plan to safeguard your business and revenue
Know Your Guest will help prevent and protect you from fraudulent bookings giving you peace of mind, confidence and a safety net in the instance something goes wrong.