Rethinking Tourism for the Short-Term Rental Industry
Posted by Kiera Davidson on September 29, 2022 · Hosts
The pandemic highlighted the critical need to transform the tourism industry, and now we finally celebrate World Tourism Day as global tourism slowly recovers.

Did you know, statistically, tourism generates around 10% of employment globally.

Put into perspective, that's equivalent to 1 in every 10 jobs.

Fostering the awareness of world tourism and everything it represents (such as the social, cultural, political, and economic values) is more important than ever now that we are entering a world endeavouring to co-exist with covid-19.

The pandemic highlighted and accelerated the critical need to rethink tourism and the approach to international impacts on the planet. May 2022 marked the very first acknowledgement by the UN General Assembly, where a high-level thematic debate on tourism occurred.

This was followed by a wave of signatures to the Glasgow Declaration – a catalyst for the urgency of climate action in Tourism.

But as a tourism sub-sector, how do we, the short-term rental industry, begin to rethink our role?

Short-term rental's role in tourism
It has long been believed that short-term rentals are the alternative way to travel; however, this is no longer the case. In fact, more and more travellers choose to travel with more freedom, more choice of unique stays with fewer restrictions in the length of stays. Coupled in with the rise of those who now work from home, short-term rental accommodation has become a leading frontier in how the tourism sector operates.

They offer more amenities and more opportunities than the typical hotelier traditionally found in tourism. Not only that, but they have allowed for broader regions of countries to be explored outside the realms of tourist 'hot-spots'. This itself has opened the doors to further cultural, social and economic gains.
Short-term rentals – economic impact
"Short-term rentals allow everyday people to take part in the tourism economy" Theo Yedinsky, Global Policy Director Airbnb.

Knowing that tourism employs every 1 in 10 people, it's essential to realise that millions of livelihoods depend directly and indirectly on tourism. Over-tourism is causing a problem in many 'hotspot' cities. However, the popularity of staycations helped boost a more sustainable way to vacation by driving travellers away from over touristed destinations to more secluded places.

Allowing travellers to book stays outside these areas of concern, helps alleviate the pressures of over-tourism. As a property manager or host, you can advise your guests to shop local, try local cuisine and help support small businesses. This positively impacts the community by protecting the natural resources of your destination by giving back.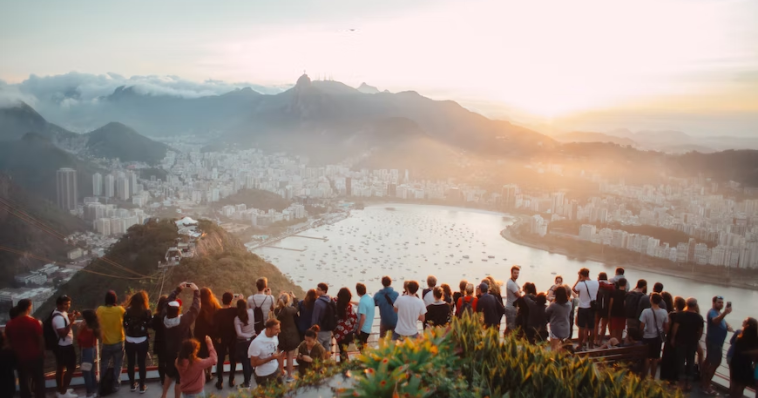 Short-term rentals – impact on the planet
The travel sector accounts for 8% of global carbon emissions, which is unfortunately set to increase by 4% per annum.

Going green is the only way to rethink tourism and positively impact the environment, and guests/travellers are calling out for eco-friendly short-term rentals.

As many countries rely on tourism, it's not a case of cutting off international travel and only maintaining domestic travel. It's the education surrounding carbon offsetting that is required.
How would a single property manager offset their carbon footprint?
Before you can offset your carbon footprint, you need to know how much your business is accumulating. There are many apps that are readily available to you, here are some you can check out:
You can also look at other widely available initiatives available to offset your carbon footprint, such as carbon offset projects like Ecologi.

If you wish to reduce your business's carbon footprint, why not also include your guests' travelling. For example, if your property is in the UK, but your guests are flying in from Texas, you could include their travel in your calculation and offset this as part of your business's emissions.

By highlighting to your guests that you're considering their carbon footprint too is a great unique selling point for attracting eco-friendly travellers!
What can property managers do to rethink tourism and grow more sustainably?
There are many ways that property managers can support sustainability causes.
Here are a few initiatives that you should consider undertaking:
Consider Digital guidebooks
Digital guidebooks are becoming more popular among tech-enabled property managers, guests loved the convenience, and they help you with saving time on guest communication.

But apart from improving guest experience and creating a more efficient business, it also has the added bonus of reducing your paper trail. Did you know that just one email affect your carbon footprint, so by having a FAQ in your guidebook, you could be reducing your carbon footprint anywhere between 0.03g CO2e to 26g CO2e for each email you don't send!

Looking for a digital welcome book? Know Your Guest by SUPERHOG has partnered with Touch Stay to empower guests and rethink how we do business.
Reduce, reuse and Recycle
With travellers starting to be more conscious of the adverse effects of tourism on communities. Vacation rental companies must do their part in supporting good causes and providing travellers with a chance to make a positive impact.
A great way of doing this is through reducing food wastage, something that vacation rentals struggle with as this is 100% dependent on the guest.
There are things that you can do to help:
consider leaving cookbooks in your kitchens to help inspire your guests with local cuisine
There are also websites, such as supercook, that allow you to submit the foods you have in  your fridge and will generate recipes from your ingredients
You can also set up a collection to allow your guests to donate their leftover food to food drives
For further initiatives, check out our blog on how to build a sustainable vacation rental business.

Know Your Guest by Superhog is committed to helping reduce the total carbon footprint of the travel industry as part of the Tourism Declares initiative. You can find out more about Tourism Declares and our declarations by visiting our Climate Action Plan here.

Book a demo and learn how a digital risk management solution can not only help you open your door to guests, not risks, but also help you rethink tourism to grow a more sustainable business.