Know how to stay safe during spring break 2023, whilst scaling your business and protecting your short-term rental properties from parties and damage.


Property managers have concerns about a large influx of young partiers staying at their rental properties during spring break. You could call it a nightmare waiting to happen. Especially, when it takes time and commitment to establish a solid reputation for professionalism within the sector.

So, how do you host spring breakers without the notorious trouble that goes hand in hand with party guests?

In this article, our 8 hosting tips will help you stay safe as a property manager during spring break and:
Handle spring break requests with confidence
Protect your properties from damage
Maintain a solid relationship with property neighbours
Let's get started.
Spring break bookings and their negative perception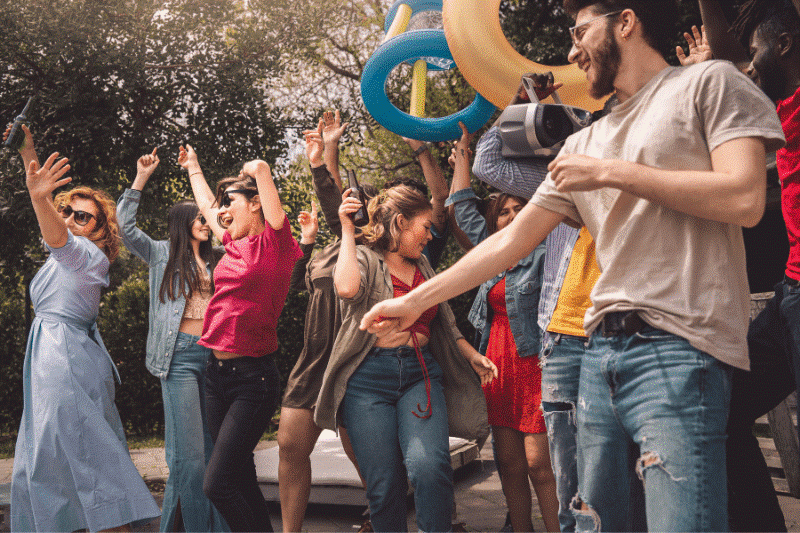 'Spring break bookings gone wrong.' We've all heard the horror stories:
Wild parties & unexpected guests
Trashed houses and irreparable damages
But did you know, the perceived negativity surrounding these bookings comes at a cost to your business?

How? Here are 3 examples:
1. You remove your vacation rental listings until after spring break.
In this scenario, you miss out on revenue for an entire month! Not only that, but this can damage your marketing efforts and set you back a month behind your competitors.
2. You cancel bookings last minute without evidence to support your reasoning.
In this scenario, you lose both revenue and trust. Gut intuition isn't enough to effectively screen bookings for troublesome guests. If you're using Airbnb as your booking platform, you can also lose your superhost status.
3. You host during spring break without any risk-preventative measures in place.
In this scenario, you can be subject to damage, fraud, parties and the hefty costs they can incur.
It sounds like a lose-lose situation: the short-term rental industry's conditioned to believe hosting spring breakers is a disaster waiting to happen. It's a hard no for many.

Yet, this doesn't have to be the case.

Spring break bookings are not all partiers looking for a booze-fuelled holiday.

Travellers from all niches and markets look to short-term rentals to book that last-minute spring break vacation. But last-minute bookings are not always made by bad guests.

In fact, they could be the best guest your listing has seen.

It's important to remember, that as a property manager, you are in the business of making memories. Spring break is the perfect getaway opportunity for many. You need to embrace that.
How to handle spring break requests at your short-term rental listing
Discover how to keep troublesome guests at bay during spring break 2023 with our ultimate A-Z guide.

Here are our 8 spring break safety tips to help prevent parties and damage.
1. Optimisation through your listing description and pricing strategy
Spring break is a popular holiday for many Americans. It's important you're not missing out on the scaleable revenue it has to offer.

Optimising your listing description with the amenities on offer will allow you to target your ideal customer. During spring break, small adjustments and tweaks to parts of your listing, including the listing title, pricing and even how many your property can sleep, will help strategise your rental property to your ideal guest, maximise your profits and avoid problematic bookings.

Remember, you can always edit listing descriptions and you should regularly look to optimise this throughout the year as part of your marketing strategy.
2. Revise your house rules and implement a signed guest agreement
House rules set guest expectations for their stay, as well as the host's expectations of the guest's behaviour prior to booking.

Revising house rules allows you as a property manager to adapt to changing circumstances. Ensure you're adding in specific quiet times and remind guests you do not permit parties: e.g 'no parties of any kind'.

Reiteration is key, use the rule of three.

Places to enclose your house rules include:
in your listing description,
within your guest agreement
re-send the guests the house rules alongside their check-in details
A signed guest agreement confirms the guest accepts your rules. It gives you a legal framework in the instance your guest breaks said rules, which then results in damage, or other misconduct, affecting your business/reputation.

3. Clear communication with your guests throughout the booking journey
It goes without saying that clear communication enhances the guest experience. To help you host safely during spring break 2023 and avoid bad guests, ensure your communication can not be faulted.

Provide enough communication to insert your ground rules and expectations, but respect boundaries and your guest's privacy too. Make them feel confident in you as a host and provide them with a hospitable stay. Guests feel trusted by hosts when communication is clear. This helps build respect between both parties.

Remember to keep records of all your communication with guests. If something does go wrong during the booking, your communication is a great pool of evidence, that will enable you to deal with the situation with a professional demeanour. It also allows you to reach a quicker, more efficient and more accurate resolution for all parties involved.
4. Collect damage deposits or damage waivers from all guests before their booking begins
Reduce the probability of spring break parties by asking for a damage deposit from your guest. Before any booking, this should be standard practice before guests enter your property.

This is a no-brainer. A damage deposit is your assurance if a guest causes accidental damage to your property. (If you want to create a new revenue stream a damage waiver solution will be a good option for you.)

Good guests will happily oblige as they are not planning to cause malicious damage, throw a party, or conduct any activity within the property that would be cause for concern.
Discover more on damage deposits and damage waivers to choose the best option for your vacation rental.
5. Don't ban last-minute bookings! Instead, turn off instant booking & use guest screening technology
Last-minute bookings can sometimes be an indicator of party bookings. However, they can also be a great way to maximise your profits and help scale your business by filling in empty and awkward calendar spaces.

If you want to say goodbye to troublesome guests, don't say goodbye to last-minute bookings. Instead, turn off instant booking and implement a comprehensive guest screening solution.

Guest screening technology can provide you with:

Know Your Guest's intelligent guest screening will help you stay in control of who's staying in your home.

Looking to stay compliant with local regulations and new requirements? Our sex offender screening technology will check your guest's details against local US sex offender registry lists and keep you updated.

Book a demo to find out more about our background checks.
6. Implement noise and occupancy monitoring solutions within your property
Preventing spring break parties is a popular theme for all property managers. Sometimes, finding out post-booking that a party has occurred is too late. The damage has already happened.

How do you give your guests freedom and privacy, but also monitor the safety of your property and neighbours during a booking?

Noise and occupancy monitoring solutions (provided by Minut, NoiseAware and Operto) are great vacation rental management tools that can shut down parties before they become out of control.

As a property manager, you will be notified whether occupancy or noise levels extend above the levels you have set, and you can instantly reach out to your guests to provide a warning.

This technology helps keep you protected from unauthorised parties and the damages they cause to your properties.
Articles you may find interesting:
7. Property damage protection for vacation rentals
Spring break 2023 doesn't have to bring worry, discourse and damage.

Vacation rental protection can reimburse the costs incurred in the instance a short-term rental guest causes accidental damage during their stay. Examples include spilt wine on the carpet, broken lamps, windows, chairs and much more.

The proper coverage will provide you with financial protection and peace of mind when accepting spring break bookings.

If you haven't got vacation rental property insurance, then you need to invest in damage protection that will financially protect you and your rental.

Stay ahead of 'what could go wrong' by implementing the right property damage protection and risk management solutions before spring break.

That way you won't:
Question whether your next guest is genuine
Question whether your next guest will cause costly damage
Worry about the costs you could be facing to rectify any damage caused
Lose revenue from future bookings you have to cancel due to guest damages
Leave yourself out-of-pocket by covering the costs of damage caused by guests
Fall behind your competition
Instead, you'll be scaling your business, optimising your revenue stream and protecting your properties from short-term rental damage.

Unlike a large proportion of hosts, your doors will be open and you will host with confidence during spring break 2023, knowing you have the right property protection in place.

Don't wait for damage to happen. Talk to us today and protect your home.
8. Streamline your short-term rental risk management strategy
When running your vacation rental, you want efficiency. There's nothing worse than having all the right tools in all the wrong places.

We hear you!

Our final top tip on how to handle spring break requests and host safely this season is by streamlining your short-term rental tech so that you have an all-in-one risk management strategy.

If you're using a property management system to manage all your vacation rental bookings, why not integrate your risk management strategy too?

With a Know Your Guest PMS integration, you can:
Automate your guest verification seamlessly: we receive the guest data after they have booked and automatically send out verification links to guests
Multi-purpose imports: easily import all of your listings and your bookings from your PMS, rather than manually entering details into your dashboard.
Greater reliability and accuracy: as everything is automatically imported from your PMS, there is no host, or guest, reliance on adding the upcoming booking/trip, or typing errors that may slow down the verification process.
Better communication: we set up email automation from the contact information pulled from each booking to chase guests regarding their verification, on your behalf.
Save time: streamlining your risk management process with your property management system will reduce administrative tasks and ease the verification process.
Know Your Guest currently has integrations with the leading property management system providers, including:
Check out our marketplace for a full breakdown of all our integrations and partnerships.

With the right risk management strategy, you can host during spring break 2023 and have the peace of mind that it isn't a disaster waiting to happen.
Let us help. Discover how Know Your Guest will provide you with the right damage coverage, optimise your revenue and prevent parties this spring break.

Articles you may find interesting: