The Know Your Guest team has had an exciting couple of months travelling and networking at many of the short-term rental industry events. Our most recent was the ExpoRV vacation rental conference that was held in beautiful Cancun.

ExpoRv Cancun is a short-term rental industry exposition, conference and networking event that is helping to pave the way for property manager professionalisation in Latin America (LATAM) and Mexico.

As the only event within the region, ExpoRV has become the hub for LATAM property managers, hosts and operators to meet and learn from industry experts across the globe.

If you had to skip this event this year, don't worry! Here are our vacation rental conference takeaways and a summary of the most common topics discussed with LATAM property managers at ExpoRV.


The top 3 vacation rental conference takeaways from ExpoRV 2022

1. Automating processes through technology


Using specialised software to manage vacation rental properties is no longer a new concept in; instead, property managers are focusing on finding new software systems that help them focus on growth and revenue – rather than spending time dealing with operations.

This was a common theme from the ExpoRV vacation rental conference.

The need to centralise all relative booking information – including calendar availability, pricing and invoicing – with a solid property management system (PMS) is an essential software helping improve property management processes.

In Hostfully's 2022 industry report, 36% of vacation rental manager respondents signified PMS' as their most valued software. (To read more, check out their full report here.)

But, an all-in-one specialised software is essentially what every property manager would like.

Industry providers are aware of this and are increasingly working together to provide property managers with a smoother experience when using different systems and technologies, either through software integrations or white labelling.

For example, when using a PMS, further technological solutions can easily be implemented, such as guest screening, deposit collection, regenerative key codes and channel managers, to help improve business efficiency, security and reliability.

With software companies actively working together, this is enabling property managers to build a personalised tech stack for their specific business needs, which allows for further growth, flexibility, and independence.

At Know Your Guest, we understand the key to property managers achieving ended-to-end automation is through leveraging the power of different software that works together seamlessly. This is why our software integrates with many other software providers, to help fulfil that need.

This is highlighted in Hostfully's report (available here), whereby, on average 3.4 software tools and technology are used in conjunction with a chosen PMS A large proportion of them are automating their guest screening and protection processes – 31% to be exact.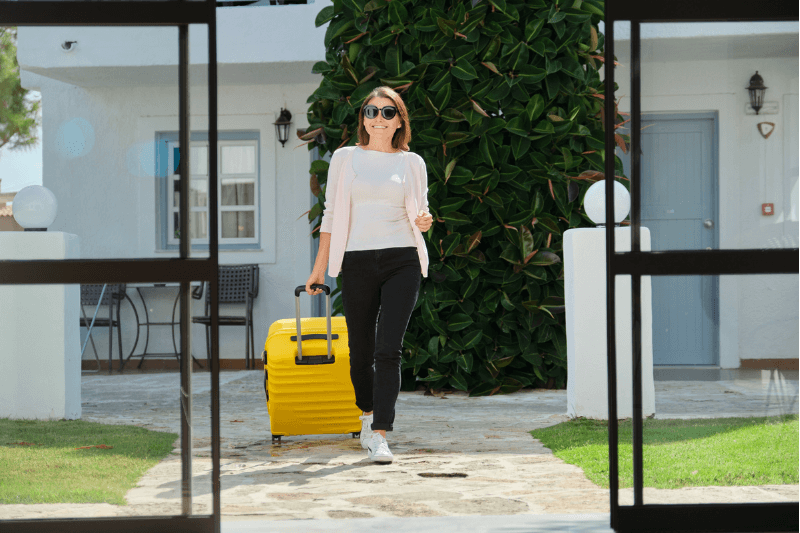 2. Building a direct booking strategy


We know Airbnb is important to hosts, but instead of only relying on the large OTAs, diversify your vacation rental properties across a wide range of channels (Travelstaytion, Plum Guide, Top Villas, Florida Rentals). Rentals United recommends getting listed on 11 channels for the best results.

There is; however, another increasingly important source that was top of everyone's mind, Direct Bookings.

Making sure you have a direct booking strategy, with your own website in place, is crucial to reducing your reliance on channels.

In an industry that is increasingly becoming popular with novice hosts (with the rise of the cost of living crisis, this is predicted to continue in 2023), professionalising as a property manager and building a trusted reputation is key to succeeding and maintaining a profitable short-term rental business.

Below are some steps on how to get started on your direct booking strategy:



Make it easy for guests to find you direct. This will help with repeat bookings. One way to easily do this is to capture emails from guests who stay at your properties, by using third-party technologies, such as StayFi.



Implement remarketing strategies. Use loyalty and referral programmes to retain guest interest and drive direct bookings.



Create amazing stays for every booking. Great stays = great reviews, ratings and word-of-mouth exposure




If you want to learn more about how to improve your direct bookings, why not check out the new Book Direct Blueprint (by Mark Simpson, Founder of Boostly, including a chapter written by our very own CEO Humphrey Bowles) now available on Amazon.


3. How to reduce reliance on OTA's while still having security?


Our final of three vacation rental conference takeaways, and a key topic of conversation had at ExpoRV, was: 'how can I ensure that guests are who they say they are, can be trusted to respect the property, and are not liable to bring problems into our properties when they don't come through an OTA?'

The main concerns property managers had about the security of direct bookings included:



Not having the security blanket OTAs provide (eg. AirCover)



Not knowing the reputation of their guest (lack of guest star ratings)



Not having the right means to collect damage deposits or waivers pre-stay



Not knowing if guests trusted them as a host




Luckily, short-term rental risk management solutions do exist! They can be integrated into property management systems (PMS) and used as an automated process in direct booking strategies to build security and help reduce reliance on OTAs.

Know Your Guest does that, combats all of these concerns, and automates your guest screening process. We can check IDs, verify biometric data, assess the fraud risk, check criminal backgrounds, verify credit cards, facilitate damage deposits through 3D Secure payments, and collect damage waivers.

Find out whether damage waivers or damage deposits will be the right solution for you here.

You can enhance your direct bookings, grow your business, and reduce your reliance on OTAs through risk management solutions.

By protecting both you and your guests and knowing exactly who is staying in your properties (with the paper trail to prove it), you can be an independent property manager, with the knowledge that if something goes wrong, you're covered.

At Know your Guest, every property manager deserves to host with peace of mind and confidence in every booking, no matter where in the world they are.


Learn more about Know Your Guest and start building your risk management strategy today.