As a property manager for multiple vacation rental properties, you have probably seen your fair share of stained carpets, smashed windows, and Airbnb scams by guests. Ensuring you have robust short term rental guest screening for multi-properties in place to protect the business against fraud is a crucial part of your role.
In this article we answer some of the most frequent questions from vacation rental property managers:

Why a reliable guest screening system is vital to mitigate risk
Revenue in the vacation rentals market is projected to reach US$ 94bn in 2023. The expected annual growth rate is around 3.4%, resulting in a projected market volume of US$107,70bn by 2027. The fast-growing industry is increasingly being targeted by criminals. Owners and managers of luxury properties are at particularly high risk.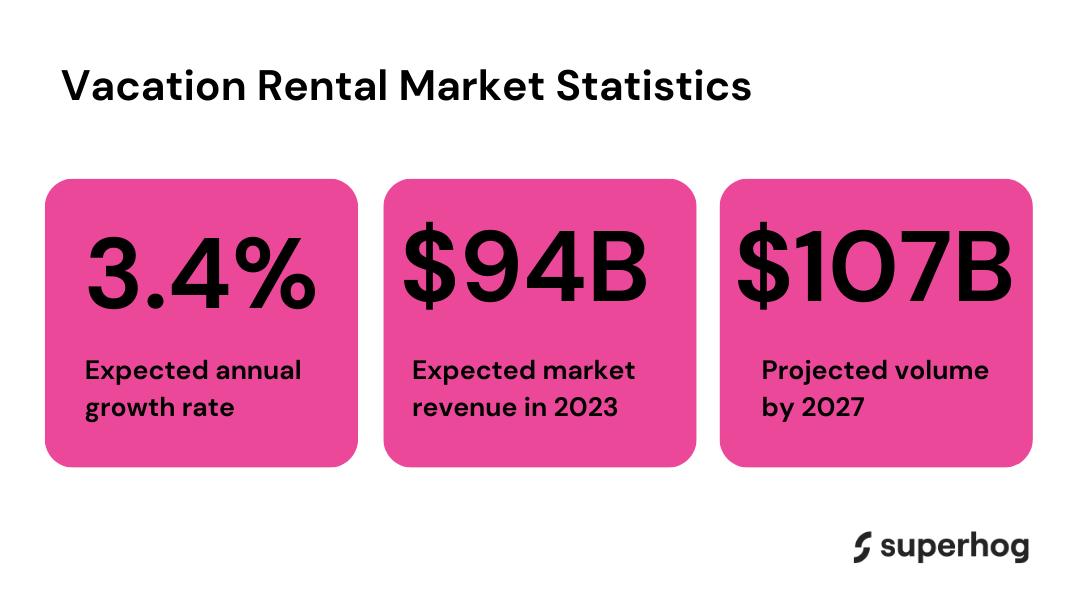 It is therefore more and more important to know who your guest is before they arrive and to understand the potential risk he or she poses. Continuous authentication through reliable vacation rental guest screening software helps you to:
Look after your vacation rental investment
One of the best ways to mitigate risk is by investing in guest screening technology. A reliable, automated screening process can easily prevent many obvious STR problems and help you to:
Ensure damage prevention
Screening helps to prevent costly damage to your property and also reduces the risk of insurance claims and enforced downtime.
Spot vacation rental identity fraud
Identity fraud is the use of a stolen identity in criminal activity to obtain services by deception. Fraudulent renters will book under someone else's name, or social security number and even try to use a fake ID. By screening your guests before their arrival, you can avoid worrying about potential scams.
Stamp out fraudulent chargebacks
Initially, vacation rental owners offered chargebacks to help customers feel secure and prevent fraud. This is why anyone who uses a credit card has the ability to request a chargeback. Unfortunately, criminals manipulate the process to take advantage of the scheme. Using a secure payment gateway prevents fraudulent chargebacks.
Avoid the risk of criminal activities
We've all read the Airbnb horror stories of rental properties that are used as gang headquarters, drug dens, and brothels. Although these are not common occurrences, you certainly don't want to run this risk.
Detect unauthorized guests
How to prove unauthorized occupants? Automated guest ID verification for every guest is one way of reducing the risk of unauthorized visitors.
Reduce the risk of parties
To prevent problems, don't allow bookings that could result in illegal parties, which may cause damage, noise, and neighbor complaints.
Boost your vacation rental ROI
If you are unlucky enough to experience vacation rental fraud, or damage to your properties, these unforeseen costs can have a real impact on your bottom line. Investing in a screening system safeguards you against this right from the start.
Some hosts also don't allow instant bookings, last-minute bookings, or bookings from locals as a way to avoid problematic guests. A vacation rental age restriction policy is another way in which managers attempt to avoid potential problems.
However, a good screening system automatically flags suspicious guests, regardless of age or booking type. This way, you can easily avoid problematic guests without leaving money on the table.
Protect your credibility as a property manager
As a property manager, the buck stops with you. Fraud not only hurts the business's reputation but also your professional credibility.
Build a community around your vacation rental properties
Local communities often do not welcome vacation rentals, and it is vital to build positive relationships with them. Having the wrong guests can be dangerous for your property and your neighbors'. It can also ruin relationships with them and discourage potential guests.
What does short-term rental guest screening for multi-properties involve?
How does guest screening change when you run a multi-property vacation rental business? Let's look at the basic definition first:
What is guest screening?
Guest screening is the process of proactively assessing the risk posed by each guest, through legal, non-discriminatory, and detailed checks. Find more information about what guest screening is in our article.
What is the guest screening process for multiple properties?
Once you manage a few properties, it becomes much harder to manually check every booking request. You simply don't have the time or resources to physically screen every guest. Ensuring your guests have a consistently high-quality experience, should be your priority.
Manual background checks for multiple properties are not reliable. The more guests you have, the higher the chance of missing danger signs.
Using a guest screening tool for multiple properties such as Know Your Guest involves continuous authentication. We check the validity of each guest's data against multiple sources to ensure no fraudulent activity is present.
Sources include Linked online profiles, internal guest database, data breach records, IP addresses, VPN usages, as well as email and mobile phone deliverability checks.
Our advanced AI and biometric ID system quickly verifies if your visitors are who they claim to be, so you can host without risk.
This saves time and money and also reduces issues with guests who may be reluctant to share personal information.
When do you have enough listings for a guest screening tool?
The more listings you have, the stronger the argument for automated guest screening. However, even if you have only one property, manual screening is time-consuming and simply not reliable. The earlier you invest in an automated system, the more bookings you can safely manage, and the more scalable your business becomes.
Guest verification for direct bookings – a no-brainer
Direct bookings may save you money on OTA fees and sidestep their rules, however, it also increases the risk of scams and fraud. This is because you don't have the protection of other screening measures used by booking channels. The only way around this is to have your own robust guest screening strategy in place.
Guest screening for OTAs – filling the gaps
The background checks offered by some OTAs often do not offer enough protection to give you complete peace of mind, hence the horror stories. So, introducing your own guest verification measures to supplement Airbnb background checks or other suggested OTA guest screening measures is essential. Here is a summary of some of the basic screening practices offered by major booking channels:
Airbnb guest verification process
Airbnb now requires all guests from certain countries to verify when they create an account. However, ID verification is not part of the sign-up process for all guests. Property managers can choose to ONLY accept verified guests. Airbnb does offer background checks, but there are limitations and they are not mandatory.
Screening for VRBO hosts
Vrbo encourages guests to obtain verified identity badges, but they are not compulsory. Vrbo then performs checks to see if the information provided is accurate. The information they need to submit, includes their first and last name, contact details, physical address, and date of birth.
Booking.com verification of guests
Guests do not need a verified ID to make a booking. The responsibility is on the hosts and property managers. The manager can choose to set guest requirements, e.g. guests must provide a valid email address, valid credit card information, and evidence of a good track record on the platform.

Short-term rental guest screening best practice
As the industry evolves, the need for more sophisticated technology to streamline the vacation rental management process is growing. This is also true for security practices. Manual checking, guest screening questionnaires, guest screening forms, and vacation rental house rules were initially common.
Additionally, these are other measures used to keep the bad actors out, including: Background checks vacation rentals – manual checking process to determine if someone is who they say they are.
Age limits vacation rentals – Having a minimum age for guests to avoid issues associated with younger guests.
Allthough these are not bad practices, they all have their limitations, particularly if you are dealing with booking requests for many properties at a time.
In recent years, the use of smart technology and AI to facilitate intelligent guest screening has become standard practice, especially for multi-property short-term rentals.
Basic rental guest screening questions usually include:
Length of stay
Locality and phone number
Agreement to house rules (such as "no parties or no smoking")
Names and ID details of all visitors
Additionally, it is a good idea to look out for potential warning signs. These may not always be red flags, but it is better to take note of the following:
A large group of unrelated people
Reluctance to accept house rules
Credit card details that don't match the name of the client
No profile picture
Odd or incomplete names
An unverified OTA account
How does intelligent guest screening work?
An intelligent guest screening product, such as Know Your Guest can help confirm the validity of the guest's ID in seconds, saving you time and reducing the risk of human error.
What is Superhog verification and how does it work?
Superhog – the technology behind our Know Your Guest Product – involves a comprehensive screening process. It asks guests to submit personal information, such as name, date of birth, physical home address, and a copy of their official ID (such as a passport or driving license).
This information is processed to determine whether the ID is stolen or fake and whether the provided details match those on the ID.
Guests give their phone number and email, which are checked to see if they match the registered owner's name and for other potential problems.
Following this, a biometric ID check usually a selfie or a short video will be requested to ensure the guest matches the photo on the provided ID.
For an extra layer of protection, property managers or OTAs may choose credit card verification, to ensure that the guest has enough funds to pay for the stay.
Finally, Know Your Guest can scan criminal records, and the US sex offender register, to detect former criminal activity.
Any issues are immediately flagged, giving you the chance to personally verify with the guest. You choose whether to ask the guest to cancel, cancel the booking yourself, or go ahead with the booking. This way you are totally in control, rather than crossing your fingers and hoping for the best.
What about guest data protection?
The advantage of using guest screening software for multi-unit property screening is that data remains encrypted and safe. This system protects property managers from violating data protection laws by trying to store personal details and guest profile data themselves.
Integrating a vacation rental guest verification system with your PMS
Property managers with multiple properties typically use a property management system (PMS), so it makes sense to look for a guest screening solution that can be seamlessly integrated with your PMS to create a smoother overall guest experience.
Know Your Guest integrates with Minut, Operto, Guesty, Hostfully, Hostaway, and Enso Connect.
How do you screen short-term rental guests without causing friction?
A major concern for STR property managers is finding a balance between s security and possible bad reviews from guests who are disgruntled with the screening process. However, teaching guests the benefits of safety, simplifying the process, and following data protection procedures, reduces friction.
Communication is key, but a streamlined automated process, with data protection safeguards, such as the one offered by Know Your Guest, is unlikely to be met with too much resistance.
Better safe than sorry
Guest screening for property managers with multi-properties is no easy task, but thanks to sophisticated technology, machine learning, and AI, there are now easy solutions to ensure your investments are always protected against fraud.